Prehuman vegetation baselines for restoration
Determing what was here before, to help guide restoration for the future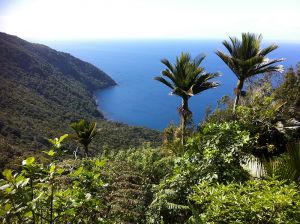 Islands play a key role globally in the conservation of endemic species. Many island reserves have been highly modified since human colonisation, and their restoration and management usually occur without knowledge of their prehuman state.
However, conservation palaeoecology is increasingly being recognised as a tool that can help to inform both restoration and conservation of island reserves by providing prehuman vegetation baselines. For example the pollen-based reconstructions can help to determine the likely rates and directions of successional changes that have occurred in the past; they can help to determine whether natural rates of succession are preferable to more costly replanting programmes; and they can provide species lists from the island's long history if restoration replanting is desired.
Our work in this area is currently focused on offshore islands of northern New Zealand, working with local conservation trusts.
Key contact

Janet Wilmshurst
Key collaborators
Clive Stone (Ngatiwai Trust Board); Mike Sheenan (Ririwha Restoration Trust)
Funders
Manaaki Whenua-Landcare Research SSIF