Defining New Zealand's lost avifauna
Establishing baselines for understanding the evolution of New Zealand's biota and the impacts of human settlement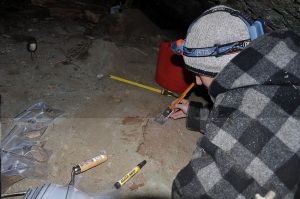 The caves, swamps and sand dunes of New Zealand hold one of the most complete late Quaternary terrestrial vertebrate fossil records globally. As a result, the composition of New Zealand's prehuman (>750 yr BP) avifauna is relatively well-known. However, our understanding of the phylogenetic relationships of many of the extinct species remains unresolved.
Using a combination of traditional morphological analyses and ancient DNA hybridisation enrichment techniques, we are currently reassessing several of New Zealand's extinct bird species to better understand their evolutionary and ecological histories.
Recently completed projects include the Chatham Island duck and Chatham Islands parrot, and current projects include the New Zealand wrens, laughing owl and New Zealand ravens.


Key contact
Jamie Wood

Janet Wilmshurst
Key collaborators
Alan Cooper and Kieren Mitchell (Australian Centre for Ancient DNA, University of Adelaide); Paul Scofield (Canterbury Museum); Alan Tennyson and Lara Shepherd (Te Papa Tongarewa Museum of New Zealand); Nicolas Rawlence (University of Otago)
Funders
Royal Society of New Zealand Marsden Fund, Australian Research Council